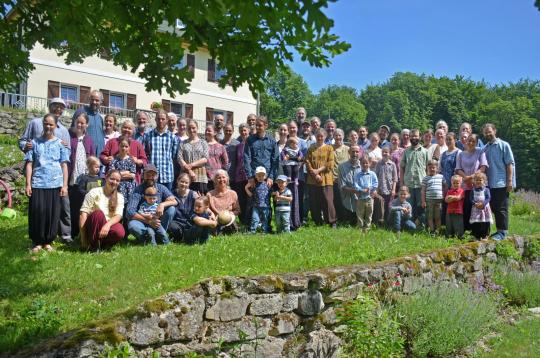 ---
Community in Skalná
Our farm "Farma Ovcarna" (which in Czech means: Sheepfold Farm) is located right at the border to Germany but still in the Czech Republic. At this special location is a special "sheepfold" gathered together, people from every walk of life, different nationalities and backgrounds. Our good shepherd is our Master Yahshua, the son of God, who gathered us all into one flock of friends. Here we learn to love the same way He loved us by taking care of everyone's need.
Our farmers are happily working together in the garden. Several times a week our hardworking farmers get a treat from the whole community supporting them to weed, harvest fresh vegetables, moving our animals, watering the tender plants, etc.
We grow most of our food ourselves. We cultivate many different vegetables, take care of our precious animals and grow our own grain… Our bakers are pleased to bake various breads with the flour made from our own spelt grown on our farm. In our little and non-commercial bakery at the farm we produce healthy bread which can be purchase at various markets in the Czech Republic, in Germany and in our little farm store in Skalna. Our customers appreciate one specialty which is baked in our little wood-fired oven, as well our other wholesome breads. 
In our down-town community you will find others of us producing other delicious products such as our raw and non-pasteurized homemade Pumpkin-Seed-Pesto, Cookies, Granola and other pastries.
Not only do we bake bread, produce pestos, work our fields and do animal husbandry, but we also fix our cars and do little construction jobs, renovate our houses and take care of our children… 
In all the business of our life the most important are our friendships and the relationships with our children. 
We not only share all our possessions together but we share our hearts in our daily gatherings. Every morning and evening we gather to praise our Creator by singing and dancing, because of this wonderful life that He has given us. Everyone is participating - from the youngest to the oldest!
We love to welcome guests. If you want to know more about our life and beliefs, please come and visit us.
-The community in Skalna
Call
Phone
420 355 455 182