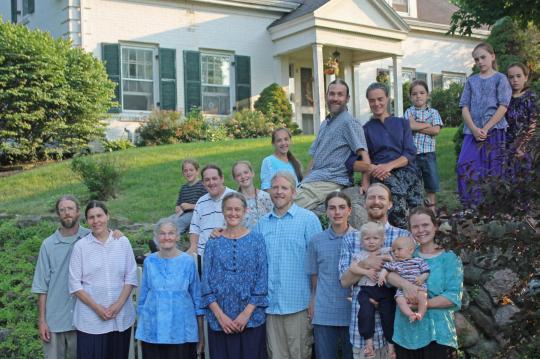 ---
Community in Marshall
The Bear Creek Farm sits as a latent treasure in a surrounding of large cornfields, farmhouses, railroad tracks, auto dealers and mechanic's shops. A stone's throw away trucks rush down busy interstate highways running endlessly between the big cities.
But if you were to come and turn in our driveway, the little creek would catch your eye. And peaceful places to walk.  Here is our pure little haven – a place of peace and love.
The Community in Marshall is the first community in the Great Lakes area.  We came here in 2015, after having met multiple families during the Tall Ships event in the Great Lakes.  The farm here was once a working farm, but then become a bed-and-breakfast called McCarthy's Inn, and later the Kraft Photography studio.  We are clearing the land, and turning it back into a fam.
Large oak tree adorn the creek.  Grassy hills make for beautiful and peaceful walks.  Four houses provide many rooms for the families and single people who live here, who are laboring to make a home for the lonely. 
A commercial kitchen looks out upon the creek, where we make products to support ourselves.  We grow food in our greenhouse and large garden, and much of what we eat in the winter comes from what we grew and preserved ourselves.
The stone walls run through the property. All with the charm of an era gone by, a simpler time. When people worked hard and took care of their neighbors.  The land stretches out past a grove of fir spruce trees into the back pasture, where we will someday have animals at pasture and fruit trees. 
We are so excited to be here in Michigan and to be meeting all of the wonderful people in this area.
Directions
Address
15230 C Drive North
Marshall, MI 49068
United States